laughingbear's
commissions
Hello! This is laughingbear's personal commissions page.
Thank you for visiting!

If you're looking for my custom character design commission, I moved them.
You can click the button below:
What I Can Draw
✔️ Original Characters, Fanart
✔️ Humans, Animals, Anthros, Closed Species
📖 status 📖
Commission form will close Jan. 22

🌷 tiny face: open
🌱 chibis : open
🌼 icon: open
💐 fullbody: open
🌊 special: open
🐄 cow: open
☀️ customs: open

Follow me on twitter or join my discord below to be pinged for openings!
🌷 Tiny Face 🌷
3 Ko-Fi / $9 per character
A tiny little face!

You'll get a transparent file.
These commissions are only offered through my Ko-Fi when open!
My normal commission TOS still applies.
There are two chibi types: minis and regular!
You can compare the two below: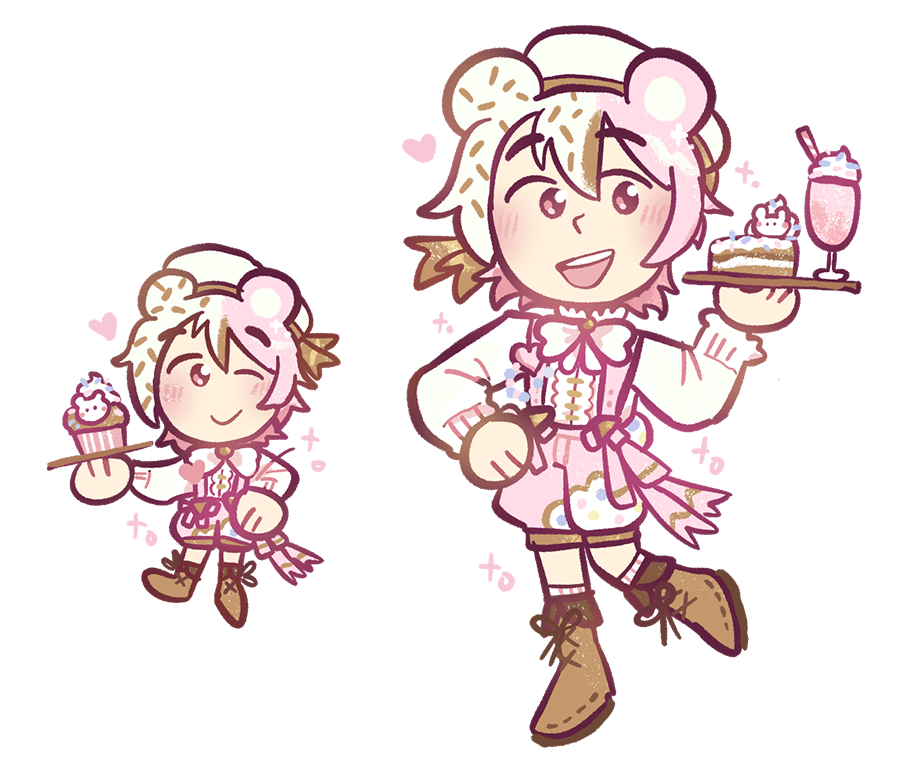 ---
🌱 Mini 🌱
$25 per character
The smallest of the small, pocket-sized.

Only 1 character per piece.

Complex designs will be simplified.

You'll get a version with a circle background + a transparent version.
---
🌿 regular 🌿
$45 per character
+$30 for small scene background
Pencil Style
Pen Style
+ Small Scene
A small friend! Larger and more detailed/fuller than Mini.

Can have 1-3 characters in a piece.

Complex designs will be simplified. I can also add shading if requested.

You'll get a version with a plain/scene background + a transparent version.
Small Scene Backgrounds
Note that these are simple backgrounds with a few elements only!

Shape may be a circle, square, or an organic shape. You can also pick!

Please provide a description of the background/mood you'd like. Examples: "A happy field of sunflowers in the daytime", "A spooky forest at night"

Photo references/moodboards are good to send, too!
🐄 Cow 🐄
$25 per character
Your character as a cow! Moo!!

If you like how I did a specific design element in an example, let me know!

You'll get a color background version + a transparent version.
🌼 icon 🌼
$45 per character
1 character per piece, or 1 character + 1 small pet.

You'll receive a circle version, a full square version, and a transparent version.
💐 fullbody 💐
$75-100 per character
A fullbody humanoid character!

1-2 characters per piece, can include simple small animals/pets/decorations

Can add shading if requested
✨ idol card ✨
$135+ per character
A halfbody humanoid character in the style of an idol game card!

Card layout colors + border decal can change to match your character, but layout and stars will be the same! Circle badge can be any letters or symbols, for example: rarity (UC, R, SR), character's name initials, heart/star/etc.

1 character per piece

You'll get two versions: one with card layout + one without.
🌸 experimental 🌸
$45+ per character
I'm also open to doing some of the styles above, which I haven't made a specific section for yet. They're mostly chibis/semi-chibis in a smoother/thicker brush or a lineless style!

1-2 character per piece
☀️ Customs ☀️
Since this section was getting a bit long, I've moved all my custom design information to a new page! Please visit the site below for all the information!
Information + Form

Commission Process
Commissions are not first come first serve and there are limited slots!

I will be accepting commission requests for a short period and will choose the ones I'd like to do.
Thank you for understanding!!
Send me your commission inquiry by filling out the form!

If I accept your commission, payment is required in full before I start drawing! I will email you confirming your commission and will send you a PayPal/Square invoice.

I do not provide sketches as I go straight into the final piece. If you feel like you'd like a sketch first, please notify me beforehand!

I'll send you the completed piece when I finish it!
Timeline
Commissions may take anywhere from 1 week - 3 months to complete depending on my schedule! If you need a piece by a certain date (for birthdays/etc.) email me before filling out the form to see if I can finish your commission by then.
Terms and Conditions
I have the right to accept or decline any commission inquiry for any reason.

Commissions are for personal use only and may not be used for profit/commercial usage.

My art must not be used for NFT/NFT related purposes.

For custom designs: Designs follow my adoptable terms of service!

Feel free to share or print the art on anything if it's for personal use!

Payment is up front. I will not start your commission until payment is made.

Note that complex designs may be simplified!

I may post/display commission pieces after I send it to you. Please let me know if you'd like me to not share them!

I can make minor edits to the commission after I send you the completed version, but I will not do any huge edits or redraws (unless, of course, the error is my fault!) Please ask for an initial sketch first if you want something specific!

Refunds will only be allowed if 1) I am unable to finish it for any reason or 2) I have not started your commission. If you asked for an initial sketch, then I can refund you 50% if you want to refund after the sketch is made but before the final piece is completed.
If you're ready to commission me, fill out the form below!